Exclusive Access Could Not Be Obtained Because the Database is in Use
In this post I will show a procedure to resolve the database restore issue.
Below is the error that we often encounter when we restore the database since the database is already used by others.
Msg 3101, Level 16, State 1, Line 1
Exclusive access could not be obtained because the database is in use.
Msg 3013, Level 16, State 1, Line 1
RESTORE DATABASE is terminating abnormally.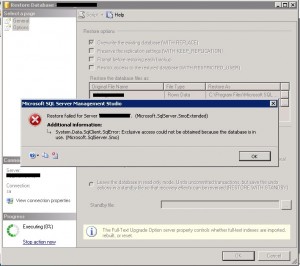 We will show you a procedure to resolve this issue.
Step 1:
Drop all the connections accessing the database. This can be done either killing the connections or by putting databases in single user mode.
Execute SP_WHO2 to find all the connections to the database or we can also use activity monitor dashboard to find those connections.
Step 2:
Kill all the connections accessing database using below script.
Kill SPID   — SPID is the session ID of the user process
Step 3:
Setting the database to single user mode
Use master
GO
ALTER DATABASE <dbname> SET SINGLE_USER WITH ROLLBACK IMMEDIATE
GO
RESTORE DATABASE <dbname> FROM DISK = ''
GO
ALTER DATABASE <dbname> set multi_user
GO
Regards
Ganapathi varma
Senior SQL Engineer, MCP
Email: gana20m@gmail.com