This is How to Export SQL Server Database to SQL File in 2 Simple Ways
Microsoft SQL Server is the majorly used relational database management system. It serves as a storehouse for the data that is needed for different applications on a single system or across a network. With this application, users can easily manage the database of any size. Meanwhile, users can also extract the SQL Server database in different formats. The most common is SQL Script (.sql file), this conversion of data can also be done from the SQL Server Management Studio. However, trying to export SQL Server Database to SQL file may be a headache for some users who are not familiar with the SQL Server Management Studio. Therefore, in this write-up, we are going to disclose two simple and effective techniques on how to export SQL Database to SQL file without a hitch. But before going further let us take a look at a user query.
"Hello everyone, I am new to MS SQL Server and I don't know how to export SQL Server database to SQL file. Can anyone suggest me how can I export my data into .sql file, so that I can share it with someone easily? Please assist me with a simple and actual working technique for the same."
Best Solutions to Export SQL Server Database to SQL file
In this section, we will discuss some effective approaches to convert SQL database to SQL file with ease. Go through it and get the solution which is suitable for you.
Approach 1: Convert SQL Database to SQL File Using Generate Script Wizard
Follow the below-mentioned instructions to achieve the same:
Step 1. Launch MS SQL Server Management Studio on your machine. Right-click on the database you want to export and then click on Tasks>>Generate Scripts…
Step 2. A Generate and Publish Scripts Window will appear, simply press the Next button.
Step 3. On the Choose Objects page, select either Script entire database and all database objects or Select specific database objects and then click on Next.
Step 4. Now, on the Set Scripting Options Window, choose Save Scripts to a specific location and click the Advanced button to configure the additional export options. Then press the Next button.
Step 5. After that, the Summary page will appear, press the Next button.
Step 6. Finally, click the Finish button to close the Save or Publish Scripts Wizard.
Approach 2. Export SQL Server Database to SQL file Using Expert Solution
The above-mentioned method is successful if the SQL Server database is in a healthy state. In case, if you are trying to export a corrupted SQL database, then, you need to use a proficient third-party tool like SysTools SQL Server Database Migrator and export SQL Server database to script file without any hassle.
Also, this software has the potential to restore deleted database objects and provide options to export the complete or selective data to SQL Compatible Script, Live SQL Server environment or CSV File format. The tool also display the complete database on its intuitive interface to ensure the correct data goes for the process. Moreover, this tool is compatible with all SQL Server versions such as SQL Server 2019, 2017, 2016, 2014, 2012, 2008, and below.
Purchase Now
100% Secure Free Download
100% Secure
Steps to Export SQL Server Database to SQL File:
Step 1. Download & launch the SQL Server Migrator tool and then click on Open to load SQL database file (.mdf file).
Step 2. Choose a mode (if your database is on live server then choose Online mode or else choose Offline mode).
Step 3. Provide server name which can be detect automatically by the tool and its authentication and credentials. Click OK.
Step 4. Here you can the see your SQL data stored in the selected database. Click on Export to proceed.
Step 5. Select SQL Server Compatible SQL Scripts to export SQL Server Database to SQL file. The software will fetch all the databases and let you select the database items which you want to export. Finally, press the Save button to begin the process.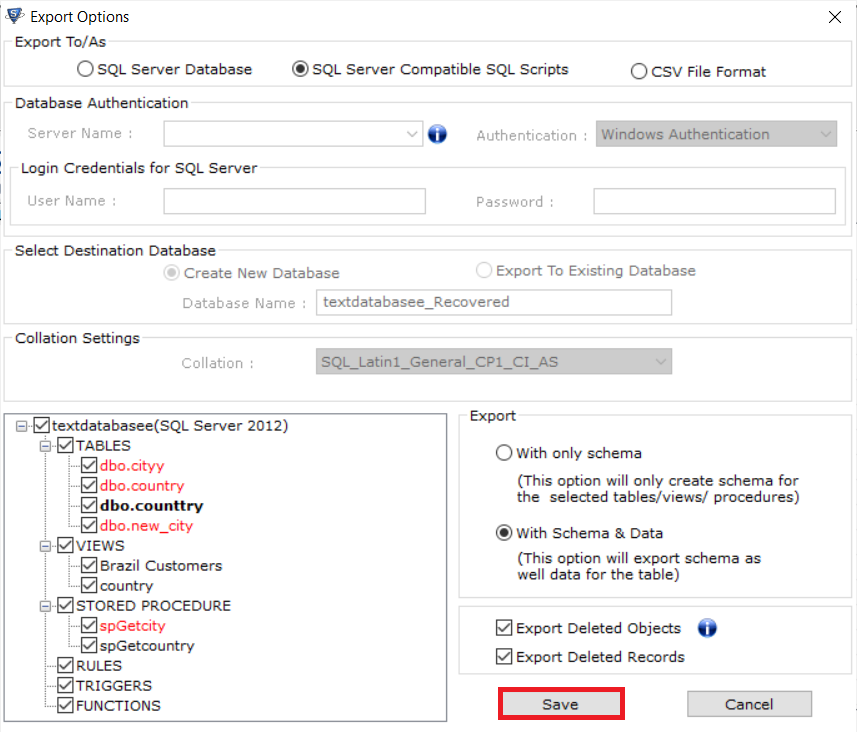 Once the process gets completed, go to the exported location and check the converted files for each database object.
Read More: How to export data from table to CSV file in SQL server?
Conclusion:
In this post, you have seen two methods to export SQL Server database to SQL file. One is by using SQL Server Management Studio and another by using an automated solution. But the manual method will work only for the healthy database. In case, if the database you are trying to export is corrupted, then must try an alternate solution like SysTools SQL Migrator Software to convert SQL database to SQL file with great ease.