Best Way to View MDF File Without SQL Server Installation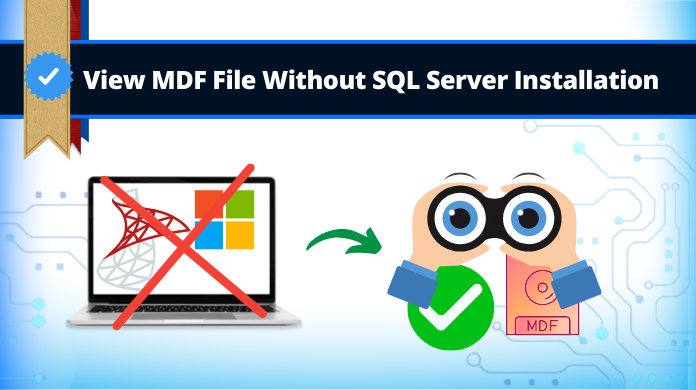 Problem: "Hello! I had created an MDF file through SQL Server after that I have transferred this file to another machine and deleted it from my first computer. Now, I do not want to install SQL Server on this PC to view MDF file due to lack of storage capacity and for some other reasons too. However, this MDF data file contains some crucial information about our organization. Thus, I need to view my master data file without SQL server. Please, someone, recommend me any reliable software or technique to get rid of this problematic situation without any data loss. Thank you!"
Table of Content
As per the user query, now let us go through the best solution available that can help users view their MDF files with a single error. Moreover, users do not need to install the SSMS or go through any technical steps.  So, read the complete article to gain comprehensive knowledge.
Open and View MDF File in 5 Steps
Launch Software in your Windows system.

Click on Open button & add MDF data files.

Select the Quick or Advanced Scan option.

Enable Preview Deleted Records checkbox.

Now view all your data files after completion.
There is a large number of cases in which a user is required to access MDF file without SQL Server. Yet, there is no any manual technique to do this. Thus, we have come up with SQL MDF Viewer, which is a perfect solution to view corrupted, inaccessible MDF Files without Microsoft SQL Server. This is one of the most reliable and tested software to open and view MDF files without installing SQL server.
Purchase the Utility Now to Get Desired Results Now :
Overview of SQL MDF Viewer
The main intention of developing this SQL database file reader is to enable the users to open, view, and read the entire data items of MDF file without installing Microsoft SQL Server on the local machine. This software allows users to open and view all data items of an MDF file such as column, tables, triggers, keys, indexes etc.
In order to view corrupted or inaccessible MDF database, it offers Quick scanning option for browsing data. There are no file size restrictions by the tool to scan and explore MDF database. However, this utility is compatible with all versions of SQL Server and Windows OS to view MDF file without SQL server.
How to Open MDF File with MDF Viewer
To open and view data of MDF File via SQL MDF File Viewer, go with the below-mentioned steps:
Step-1. Download and install the SQL MDF Viewer Tool in your system.
Step-2. Launch the tool and hit the Open tab and select the MDF file.
Step-3. Select the Advance Scan or Quick Scan option as per the level of corruption in your MDF/NDF database files.
Check the Auto detect option to detect the SQL Server version of selected MDF file automatically and click Ok button
Step-5. The application will display a summarized detail of selected MDF files and the automatic scanning of MDF files of SQL Server database will get started
Step-6. After completing the scanning process, the tool will preview the recovered database of MDF/NDF files. In this detailed preview, you can view all the data items like tables, triggers, stored procedures, views, etc.
The automated tool is quite useful as it can easily counter several errors like login failed error 233 & many more.
Software Features to View MDF File without Hassles
The automated software is capable of previewing the table, columns, keys, triggers, classes, indexes, etc data items.

Using the tool, there is no need to enter SQL Server version manually but the software still offers te option. It can auto-detect the server version as well.

Quick & advanced scan options can easily help users find & repair corruption issues in the MDF file seamlessly.

There is no restriction on the size of file here. The software is very well capable to scan & preview heavy files.

There is no need to get the MS SQL Server as the software alone is capable to provide desired results to users.
Observational Verdict
After testing the operation procedure of the MDF Viewer, it is clear that the tool is easy to operate and user-friendly also. Users without SQL Server are continuously searching for a solution to view MDF files without SQL Server installation.
However, this MDF File Reader makes it ease to view MDF file without SQL server for the user. Considering the requirement of users, the mentioned utility is an overall solution for related user queries.
FAQs
Q-1. How do I view the contents of an MDF file?
Ans: Steps to view MD file Content:
Run the automated solution & add MDF files.

Scan MDF data file to check for corruption.

Wait for a while till the scanning completes.

Preview the contents of MDF files easily.
Q-2. How do I open an MDF file without SQL Server?
Ans: Without SQL server, users need to rely on the automated software to view all the data inside a MDF file.
Q-3. Can Microsoft Access open MDF files?
Ans: No, Microsoft Access is not capable to open & preview the MDF data files.